The technicians at Twin Pool and Spa attend seminars and in-depth training courses directly form the major pool equipment manufacturers to better understand what is available for you and how it fits your needs. We can perform almost any pool equipment repairs. We work on all types of pools, chlorine, salt, and bromine. We are familiar with the installation and pool equipment repair of many of the most popular and innovative pool companies.
Our technicians have been asked to perform the warranty services for Pentair pool equipment, Zodiac pool equipment, and Jandy pool equipment. We only recommend the best products on the market and explain to you why we feel it is the best piece of equipment for you.
Rockville Pool Products & Installation
When you are in need of a new piece of equipment, we will analyze your pool needs and your desires and recommend only what is best for you, giving you options, and letting you decide what you want to do. We only recommend the best quality equipment and the most innovative technology. We will let you know what you need and you will let us know what are the most important factors in your choice of your new equipment.
Do you want energy star high efficacy? Do you want the most innovative smart technology? Or is this a time when you just want to keep the budget in mind? The equipment Twin Pool and Spa delivers to you is professional grade equipment, only made available to and must be installed by pool professionals in order to be covered by a manufacturer's warranty. We have a test pool where we test new equipment to see if it lives up to the manufacturers claims. We will assist you in your decision about your pool equipment as if we were picking it for our own pool. Our main concern is giving you what works best for you.
Brand Names & Products We Suggest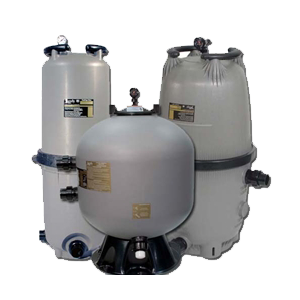 The pool filter is used in conjunction with your pump to keep your pool clear of oils, debris, dirt, and algae spores. Together, this is called the filtration system.
You'll have several filter choices for your pool, including sand, cartridge, or diatomaceous earth (DE.) Each type of filter has its own unique pros and cons that make them less or more ideal for certain types of pools. Generally speaking, cartridges offer a finer filter medium than sand, but they're not really designed to accommodate the needs of a larger pool and have to be replaced at least every three years. Sand filters typically have the lowest overall cost considering they last up to seven years, but they're also a lot of work in that they require frequent backwashing that can easily alter your pool's chemistry.
For most in-ground pools, we recommend a DE filter for the best overall value and cleanliness. These use a white powder made from crumbled sedimentary rock. It filters much like sand, but they provide a finer and more effective medium. While DE filters still require backwashing, they offer a superior filtration that can cut debris down to just five microns verses sand's 20 microns and a cartridge's 10 microns.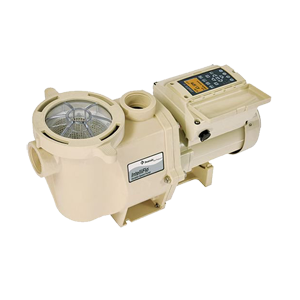 Just as an engine is the heart of a vehicle, your pump is the lungs of your pool. It's the key component of the filtration system that keeps your pool's water clean. It's crucial that your pump is the right size for your pool and in good working order. Otherwise, your pool can quickly fill with debris and turn a slimy, green mess.
For most standard pools, we recommend the Jandy FloPro pump for its combination of stellar design and price point. It's a single speed pump with enough power to accommodate most any sized pool. Yet, it's very easy to maintain and service.
One feature pool owners particularly enjoy is the clear plastic trap lid, which makes it easy to identify when the trap basket needs to be cleaned. The intake and discharge have union plumbing, which makes maintenance a snap. As one of the quietest pumps on the market, you'll likely not even hear it running as you swim. Affordable innovation makes the Jandy FloPro pump a real standout and our top recommendation in this category.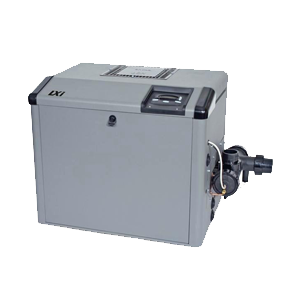 If you'd like to heat your pool for comfort and use throughout cooler seasons, you'll want to look at pool heaters. You'll have two options: gas-fired heaters or heat pumps. Again, you'll find pros and cons of both in regard to your needs and pool specifics.
Overall, heat pumps are the most affordable option for day-to-day use. Their heating ability is very limited, though. In geographical regions with colder Spring and Fall seasonal temperatures, you'll likely find a heat pump all but ineffective. This is why we recommend most pool owners look at propane or natural gas-fired heaters as the most comprehensive and reliable heating source.
Our favorite pool heater is the dependable and simple design of the Raypak RP digital heater. Raypack is a division of Rheem that's almost entirely focused on heaters, which is a testament in of itself to the quality of their heaters. Programming with the Raypack RP digital heater is straightforward with the digital display, and the display also makes troubleshooting problems and maintenance needs easier and quicker. It's design can accommodate most any pool size through reasonably cooler temperatures.
We offer pool equipment, products, supplies & chemicals in Rockville, MD zip codes:
20847, 20848, 20849, 20850, 20851, 20852, 20853, 20854, 20857, 20877