Not All Pool Services Are Created Equal
There are different types of pool service companies. Some are retail chemical and equipment companies that also service pools, pool builders who also service pools & those who try to do it all. The Twins of Twin Pool and Spa saw a need to perform service and repairs exclusively in a truly professional manner. We fill the void for homeowners who want pool service and attention to detail unmatched by other companies.
Our mission is to provide superior service that allows you to relax and enjoy your leisure time. We take care of the rest, ensuring that your pool investment is maintained clean, safe and efficiently by certified pool professionals.  We're big enough to cover the broad range of pool services that you need, yet small enough to greet you on a first name basis.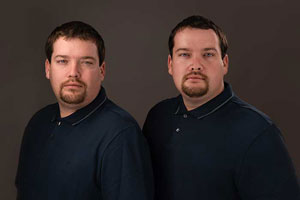 More Than Pool Technicians. We're Specialists.
We are a family-owned pool service serving the Maryland and Virginia suburbs of Washington DC. The name "Twin Pool and Spa" reflects the twin managers: Brent and Derrick Marth. Between the two, they have over 34 years of pool-technical experience as professionals in this industry.
Back in high school days, the brothers worked summers for another family-owned pool company in Leesburg, VA. With an affinity for water and the islands, Brent & Derrick moved to Hawaii, where they opened their own pool company.  Four years later, after selling their Hawaiian pool company, the brothers moved back to Maryland to work for a highly successful pool company in Gaithersburg, MD as senior technicians. Mastering pool chemistry, complicated timers, heaters, pumps, plumbing, tiling, automation and lighting of modern pool technology, Brent and Derrick earned many certifications and a sterling service reputation.
Brent and Derrick attained Certified Pool Operator (CPO™) from NSPF, the National Swimming Pool Foundation, Certified Maintenance Specialist (CMS™), and Certified Service Technician (CST™) through The Pool and Hot Tub Alliance (formerly APSP) and educated through manufacturer classes. CPO® Certification is the world's leading verifiable pool and spa training credential, coveted by pool industry professionals for its unmatched training results.