POOL PUMPS & the 2021 LAW
Just as an engine is the heart of a vehicle, the pump is the lungs of a pool. It's the key component of the filtration system that keeps your water clean. For installations, we recommend a medium head, variable speed, high efficiency pool pump, right-sized for your pool. The incremental cost of the variable-speed pump is now low enough that the transition becomes a no-brainer and the payback is quick.
The DOE's Energy Conservation Standards for Dedicated-Purpose Pool Pumps of 2021 require variable-speed pumps for powering pool and spa filtration systems.  The pool pump is the second largest energy expense next to the air conditioner in a home. These new pumps pay for themselves in 1-5 years of energy savings.
Variable Speed Motors
The latest technology in pool motors brings greater pool-energy efficiency via the magnetic drive variable speed motors that are a minimum of 30% more efficient than the older technology. These motors operate at lower speeds producing savings from 75%-90%  by comparison. A serious incentive for pool owners to upgrade!  Serious Savings.  Speedy pay-back!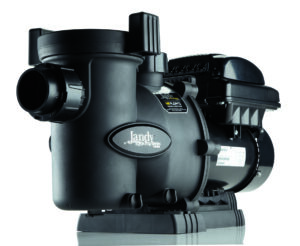 IntelliFlo Pumps
We service, sell and install the best variable speed pool pumps on the market today. When your pool requires variable speed power up to 3 HP, we can recommend the Intelliflo® line to meet your needs. When Pentair introduced IntelliFlo variable speed technology, it ignited a marketplace revolution with its energy efficiency, near-silent, reliable operation and long service life. Numerous programmable speed settings and a built-in timer ensure the pump runs at optimum speed and duration.  An ultra-efficient permanent magnet motor design reduces noise and vibration for greater efficiency and longer pump life.
If you need a new pump and motor but not the HP of the Intelliflo®, then the AquaPro Systems® pumps can meet your needs with variable speed pool pump technology down to 1HP along with the Waterway™ Power Defender. Both pump lines are Energy Star® certified.
Jandy's FloPro™ pumps feature a quiet medium-head, high-flow pump in an ultra-compact body. An excellent choice for tight equipment areas. Energy-efficient 2-speed models provide uncompromising power to filter and recirculate pool and spa water while keeping costs down. ENERGY STAR® Certified: meets strict energy efficiency criteria set by the EPA and the U.S. Department of Energy
The Twin Pool and Spa team can consider your goals for pool utility and lifetime to determine the best path forward.  You can trust Brent and Derrick in your back yard to help with a candid, objective evaluation of the "Repair or Replace" decision.  Call us at 301-655-9333.