Rockville Pool Products & Installation
Automatic Pool Cleaners
Anyone who owns a pool is grateful pool cleaners were invented, as they are constantly doing "housework" for you!  Automatic pool cleaners are a necessary supplement to a weekly total clean. When breakdown occurs, it's a nightmare to find someone you trust to replace or repair it at a reasonable cost. We offer high-quality, personal service that doesn't break the monthly budget.  Brent & Derick are Twin-trained experts to help repair or replace any model of pool cleaner equipment  that's on the blink.
3 Types of Automatic Cleaners
Keep your pool as debris-free as possible!  There are 3 types of automatic pool cleaners to choose from: suction-side, pressure-side, and robotic cleaners. All clean on their own once you get them in the water, but robotic cleaners have a massive advantage over suction and pressure-side cleaners.
Robotic cleaners don't need to be attached to your pool to get the job done. Suction-side and pressure-side cleaners get their names from where you hook them up to your pool. Robotic cleaners merely need a power source to run on low-voltage sources through ground-fault circuit interrupter (GFCI) outlets. These outlets automatically shut off power if they detect any electrical imbalances, which means you won't get zapped.  Check these features:
Lightweight, very mobile, yet durable
Wide tires & 4-Wheel Drive: easily gets over bumps & climbs walls
Swivel Cord: prevents tangles
Pool Scanning to find spots & minimize task time
Easy-to-clean filters
High-Quality Brushes: clean & scrub dirt from almost any surface in the pool.
Programmable Timer: set it & forget it
Climbing Ability
Efficient Clean Cycles: different levels for different cleans
Power-saving energy efficiency
Robotic pool cleaners range in price, but the investment translates into savings of energy, electricity, and your time in this age of chlorine challenge.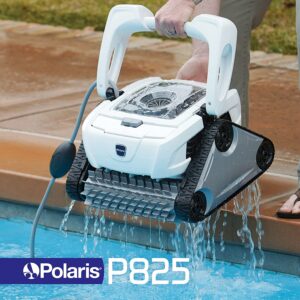 Brent, Derrick and the Twin Pool & Spa team service, sell and install the very best cleaners from major brands like the Polaris Alpha-iQ+ & 7240 Sport, Maytronics Dolphin Nautilus, Aquabot Breeze & TurboT2, Polaris, Hayward Tigershark & Pentair's Prowler.  We recommend the "good-better-best" options to fit your budget and pool-size.   Call  301-655-9333 and we'll get you on your way to an immaculate, low-maintenance pool.
We offer pool equipment, products, supplies & chemicals in Rockville, MD zip codes:
20850, 20851, 20852, 20853, 20854, 20857, 20877
[/vc_column_text][/vc_column][/vc_row]