Twin Pool and Spa's pool cleaning service minimizes the strain on your pool equipment and extends life expectancy.  You save time and money.  Your family enjoys a sparkling, clean pool with little effort on your end. When chemicals are tested and adjusted often, your family enjoys a safer, more comfortable environment. We analyze your equipment and provide expert advice on optimizing your pool operation.
We offer weekly and twice-weekly pool cleaning.  Why?  Bi-weekly pool cleaning leaves no one happy.  With good intentions, the owners never quite have the time or skill to perform proper cleaning and water-chemistry adjustments needed to condition the pool on the off week. When the professionals arrive, they find a pool in need of added chemicals and much more vacuuming and other work to get the pool to standard. The pool owner works more than they want and the results are mediocre.
Contact us, or call  (301-655-9333 to reserve your swimming pool cleaning service today.  Each pool is unique.  Maintenance rate will be quoted according to the complexity of your pool needs.  
Welcome To Cleaner, Clearer, Safer Water!
Our experienced pool cleaning techs take great care to ensure your pool is clean and well-balanced, including a monthly computerized water analysis. We reduce the redundancy of pool cleaning and maintenance. Trust us in your backyard.  Relax and enjoy a worry-free summer!
WEEKLY POOL SERVICE INCLUDES:
Test & adjust water chemistry as needed
Brush wall, floors & tile
skim surface of pool
Empty skimmer baskets
Empty & inspect automatic pool cleaner
Backwash filter or clean filter as needed
Rinse or blow off pool deck area
Vacuum pool (to 1/2 hour)
Inspect all equipment
Weekly Report on the condition of pool, equipment & water chemistry
Vacation Service: $125 (for regularly maintained pools)
Want to get away?  You can depend on Twin Pool and Spa to handle the cleaning and balancing so you have one less detail to worry about as you make plans.  Chemicals are not included in the price for this service but are required for proper pool balancing and maintenance.  If customer chemicals are not left poolside, we can provide the chemicals at the owner's expense. This includes both maintenance chemicals as well as specialty chemicals required to treat problem issues like algae, scale, and staining.  Not for storm damaged, neglected or maintenance-postponed pools. Call for more information: 301-655-9333.
Pool School:  $125 (first 1/2 hour)
Are there are any areas of D.I.Y. you need to know about?  Even if you have weekly service, every homeowner should understand the basics of maintaining their pool. Brent & Derrick offer training sessions poolside to help you adopt best practices working with your equipment.
Pool School includes:
Chemistry – testing & adjusting
Cleaning – netting leaves, brushing, vacuuming & emptying skimmer baskets
Equipment Filter operations
Pumps
Automation/programming
Basic equipment troubleshooting including high/low filter pressure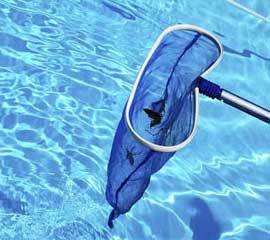 We offer pool maintenance & cleaning in Rockville, MD zip codes:
20847, 20848, 20849, 20850, 20851, 20852, 20853, 20854, 20857, 20877